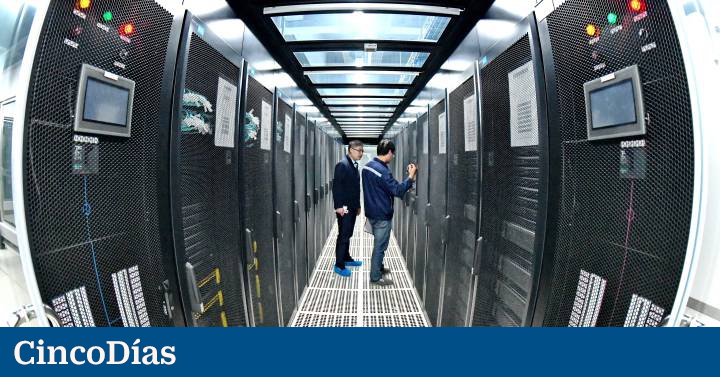 The opportunity to build data center infrastructure is attracting foreign capital to Spain. Different funds and specialized companies are looking for projects to join the boom of initiatives announced by different protagonists in recent months. The Blackstone and Pimco funds, the Dubai real estate company Damac and the US firms Compass and Prime Data Centers, among others, are analyzing operations to enter the Spanish market, according to sources in this sector.
The high demand from technology companies to provide cloud services to corporate clients is strongly driving the creation of data centers. Currently, Madrid has an installed capacity of 100 MW in this type of infrastructure and Barcelona another 20 MW. In June, Colliers consultancy made public that in the Spanish capital there are 14 projects to add another 505 MW and in Barcelona another 110 MW.
But the projects could be many more, due to the appearance of new companies specialized in this sector that are attracting funds, in addition to the fact that real estate companies are turning to enter this sector.
Blackstone –through QTS–, Pimco, Damac, Compass and Prime Data Center are evaluating opportunities to purchase land to build projects, centers already in operation and have even begun to open files with energy companies, because these infrastructures are intensive in the use of electricity, fundamentally due to the need for cooling the servers.
The US fund Blackstone acquired last year for 10,000 million dollars the real estate company QTS Realty Trust, specialized in this type of asset, and which is now looking for opportunities in Spain.
In the case of Damac, a Dubai real estate company specializing in luxury properties, announced in March that it will invest around 1,000 million in data centers in different geographies, including Europe. In this way, the company of Hussain Sajwani – who Forbes calculates a fortune of 2,700 million – seeks to diversify its businesses to take advantage of the strong growth of digital services.
Among those looking for projects, Prime is one of the veterans, since the San Francisco firm, with a 15-year history, has assets of approximately 6,000 million. Compass Datacenters, for its part, is a Dallas company that is growing strongly in this sector.
numerous projects
Among the Spanish companies, Merlin Properties (the largest real estate company in capitalization of the Ibex 35) has entered this business, It is already building an asset in Vitoria and plans to start the works in Madrid and Barcelona these days, as well as another center soon in Lisbon. The company plans to invest 596 million euros to build these infrastructures with a joint capacity of 70 MW in two phases.
In Madrid, the largest initiatives, both 100 MW, are promoted by the Thor Equities fund in Fuenlabrada and by Stoneshield, through its subsidiary Xdata Properties, in San Fernando de Henares. CincoDías published in July that Stoneshield, a fund promoted by Juan Pepa and Felipe Morenés (son of Ana Botín), have put this project up for sale (or open to investment partners), in an operation entrusted to Morgan Stanley and CBRE.
Likewise, a specialized real estate agency, the American Interxion, is currently building its Mad 4 project in the Julián Camarillo area of ​​the capital and has launched a new investment in Sant Adrià (Barcelona). Also in Barcelona, ​​the Panattoni real estate company is building the largest (42 MW) in Cerdanyola.
There are also other large projects outside of Madrid and Barcelona, the one in Meta in Talavera de la Reina (Toledo), Ingenostrum (120 MW) in Cáceres or Aire Networks in Málaga. In the Iberian Peninsula, the largest of them is that of the Star Campus company, with 450 MW, in Sines (Portugal).
Opportunities of the digital 'hub' of southern Europe
Investments. Spain offers great opportunities for all these companies, as it is positioning itself as the hub network from southern Europe, with heavy investments in Madrid and Barcelona, ​​which want to rub shoulders with Frankfurt, London, Amsterdam and Paris, which are already more saturated. A recent report by Spain DC, the Spanish Association of Data Centers, revised upwards the planned direct investments in new data centers in the country and raised them from 5,000 to 6,837 million until 2026.
Cloud regions. the tech giants amazon, Google, microsoft and Oracle have already announced the launch of their regions cloud in Spain, after detecting a good local and European business opportunity. And to this is added the arrival of three submarine cables to the country to establish itself as an interconnection point.
Submarine cables. Facebook and Microsoft have already united the US and Europe with their Tide wiremoored in Sopelana (Bizkaia), the social media giant has also chosen Barcelona as the node of the cable 2Africa, that will interconnect 23 countries in Africa, the Middle East and Europe, and Google advances in its submarine cable Grace Hopper, that connects Bilbao with the US and the UK.