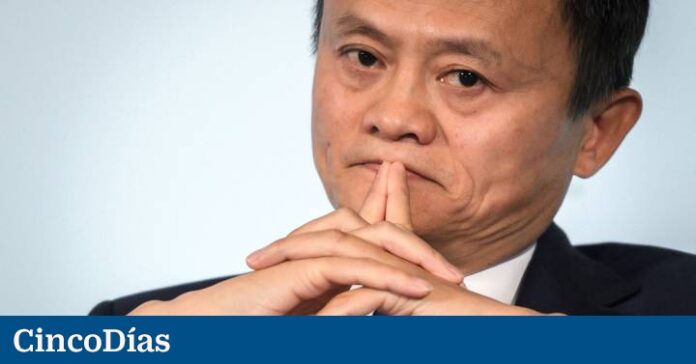 Alibaba shares fell 9% on Monday on the Hong Kong stock exchange, to their lowest level since last June, and this despite the fact that the company increased from 6,000 to 10,000 million dollars (from 4,910 to 8,185 million euros ) its two-year share buyback program trying to ease concerns about a regulatory crackdown on the Chinese e-commerce giant and its financial empire through its subsidiary Ant Group.
Investors reacted to fear that Beijing has lost patience with the enormous power of its tech moguls, increasingly perceived as a threat to the country's political and financial stability. A fear that led them to flee not only from Alibaba but also from other Chinese tech titans like Tencent, Meituan and JD.com.
Alibaba and its three biggest rivals have lost nearly $ 200 billion (about 163.74 billion euros) in two sessions since Thursday, when the country's regulators announced an investigation into alleged monopolistic practices of the firm founded by Jack Ma, which would have forced sellers to choose a single sales platform.
Alibaba's stock market value has fallen more than 25% (about $ 250 billion) since October, when its founder criticized China's financial regulation and activity by state-owned banks, but the downward spiral has intensified with the announcement. of that antitrust investigation and after this Sunday The People's Bank of China (BPC) will urge Ant Group to undertake a thorough review of its activities.
China is revising the Antitrust Law to include the internet industry for the first time
The BPC and other Chinese financial authorities reported that they had held a meeting with the Ant leadership in which the company was accused of disobeying regulatory compliance requirements and demanded changes in key business areas, such as the return of the company. fintech to its origins as a payment service provider, improvements in transparency and in the protection of user data.
Likewise, it was asked to put an end to unfair competition practices and apply regulatory requirements when offering credit, insurance or financial management products. It was also urged to establish its financial companies "in accordance with the laws" and ensure that its capital is "adequate" to grant loans, as required by the latest regulations in the sector. fintech prepared by the authorities.
Zhang Zihua, investment manager at Yunyi Asset, told Reuters that the result of an investigation into Alibaba could "greatly change" the company's valuation, despite the fact that it is still unknown what sanctions could be applied as a result of the antitrust investigation that was carried out. It has opened up, and that is something that "worries investors a lot."
Last November, Chinese regulators abruptly suspended Ant Group's $ 37 billion (€ 30.30 billion) IPO in Shanghai and Hong Kong. Ant's IPO would have been the largest in the world and would have valued the company at more than $ 300 billion, but now the market fears that the demands placed on this company will affect its valuation if it resumes its interrupted exit to the market. market. And it is that although the BPC has not requested a break from Ant, it has sounded threatening for the company's business to ask it to return to its basic business, payments, with less margin than online credit and insurance, areas of fast growth for the company.
"The new regulations are affecting the big internet platforms, and so Tencent and other tech giants are also seeing their shares fall, "technology analyst Li Chengdong added to Reuters. Tencent fell 6.65% on Monday, Meituan 6.88% and JD.Com 2%.
Beijing is waging a campaign to control big tech, increasingly powerful and with businesses like techno-finance, thanks to a loosely regulated environment. The Chinese government is reviewing, among other issues, the existing Antitrust law to include the internet industry for the first time.
"The Chinese government is exerting more pressure and wants to have more control over technology companies (…) And there is still great pressure to sell on companies like Alibaba, Tencent or Meituan," Jackson Wong, managing director of assets of Amber Hill Capital. "They are companies that have grown at a rate that Beijing considers too fast and have too large scales," he adds.
Alibaba shares, which could be punished under the current Antitrust Law with a fine of up to 10% of its income (about $ 7.8 billion), could trade lower in the short term due to the regulation that China is preparing, according to Nomura. But it adds that the cut will make its securities attractive to long-term investors. The financial firm maintains a "buy" rating on Alibaba's shares listed in the US and maintained a price target of $ 361. Their titles were around $ 222 on Monday.
A message for the entire industry
Fair competition. He People's DailyAn organ of the ruling Communist Party published a comment this weekend warning other Chinese tech rivals to Alibaba to view the antitrust investigation against this company as an opportunity to raise their own awareness of fair competition.
Online commerce. Investors remain divided over the measures Beijing plans to impose on Alibaba. According to Bloomberg, the new regulations are focusing on the ecommerce, in order to avoid anti-competitive practices such as "choose one of the two". The Chinese government accuses Alibaba of using it and forcing merchants (sellers) to sign exclusive agreements that prevent them from offering products on other rival platforms. The aforementioned agency adds that the new regulation also has little focus on prices based on algorithms and warns against predatory prices (selling below cost) to eliminate rivals.
Power. The antitrust investigation against Alibaba in China comes almost in parallel to the complaints filed by the US authorities against Google and Facebook, which they accuse of monopolistic practices. Also Amazon and Apple are being investigated in that country and in Europe, which makes clear the fear of the different governments for the power that the technological giants are amassing.