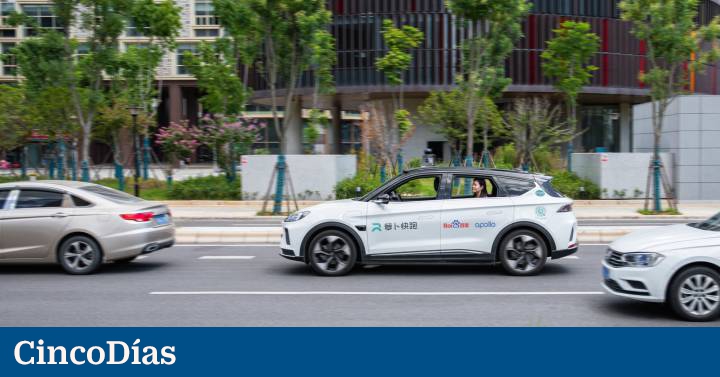 Search engine Baidu, known as China's Google, has gained approval to enter the driverless vehicle business, rolling out the first fully autonomous taxi service on China's roads. The tech giant has obtained permits to operate robotaxis in Wuhan and Chongqing, two of the country's largest cities.
Baidu will start offering driverless robotaxi services in 13 square kilometers of the Wuhan Economic and Technological Development Zone between 9 a.m. and 5 p.m. It will also cover 30 square kilometers of Chongqing's Yongchuan District from 9:30 a.m. to 4:30 p.m.
The company is looking to expand to more cities, such as Beijing and Guangzhou, so they are working to obtain similar permits for these areas, said Wei Dong, vice president of Baidu Intelligence Driving Group. "It is as if we have landed on the moon and built a base there. It's only a matter of time to go to Mars or even beyond our solar system," he said in an interview with Bloomberg.
Baidu is in the midst of a transition to artificial intelligence and self-driving cars after its main ad revenue shrank in the mobile era. His smart driving business provides software to automakers like Geely Automobile Holdings. In addition, the group manages a round trip transportation application with a fleet of self-propelled cars in the main cities of the Asian giant.
The Chinese technology company is ahead of competitors such as the American startup Pony.ai
In July, Baidu introduced a new version of its Apollo RT6 robotaxi. They assure that it costs almost 50% less than its previous model, which opens the possibility of traveling cheaper. In addition, Wei says the company will double the number of robotaxis they have on Chinese roads to 600 vehicles by the end of this year.
Competitors
However, Baidu will not be alone in the market. It will have to compete with Pony.ai, a Silicon Valley firm that earlier this year also received the go-ahead to deploy driverless cars in part of Beijing. In the United States, autonomous taxis are also being implemented, although at the moment with numerous incidents that have raised suspicions among users.
Cruise LLC, which obtained its license to charge for self-driving rides in San Francisco in June, was involved in two incidents that same month. The first occurred due to a massive failure of its software, so that up to 50 vehicles were concentrated in the same point of the city, collapsing traffic. The second incident was a collision between Cruise's autonomous vehicle and another vehicle. The robotaxi stopped in the middle of a street intersection when it detected the presence of another vehicle approaching in the opposite direction, which precipitated the impact. The occupants of both cars were treated for minor injuries.
Until now, autonomous driving vehicles were limited to offering this service in private cars. Having this feature in taxis means taking a step further in the trust that the customer places in autonomous driving, given that it cannot correct the trajectory in the event of a system failure.
Protagonists of the robotaxis sector
Pony.ai. Funded by manufacturers such as Toyota, Pony.ai pioneered the robotaxis business, starting its first tests in April 2018. Its goal was to operate in both China and the US, but in May this year it lost its license. to act in California because authorities detected driving record violations for their vehicles.
Cruise LLC. The US company backed by General Motors began testing driverless autonomous driving on the streets of San Francisco in December 2020. In June this year it received a license to charge for its rides, but its vehicles have suffered several incidents since then. .
Waymo. Its autonomous taxis belong to the subsidiary of Alphabet, the parent company of Google. It has been operating in Phoenix since 2020. A team of employees monitors the route in order to take control of the vehicle in an emergency.
Dawn. The American company acquired Uber's autonomous taxis in 2020, after the mobility company decided to go out of business after a hit-and-run that claimed a fatality. Aurora expects to launch its subscription-based autonomous taxi and truck business between 2023 and 2024.
Tesla. Elon Musk's company hopes to enter the autonomous taxi business in 2024.