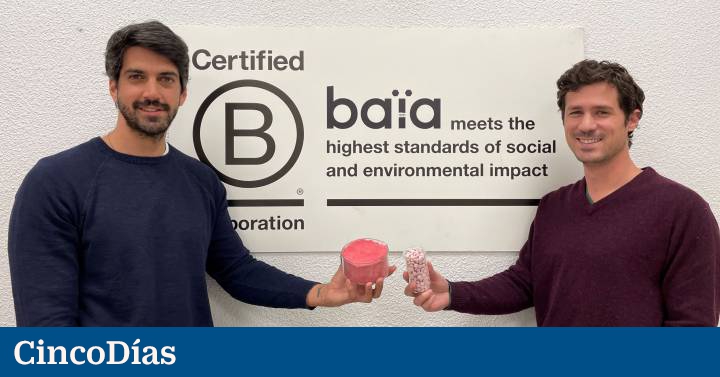 The Spanish company Baïa will launch itself in the European market to market its food that transforms acidic flavors into sweets. Foodtech has just received authorization from the European Commission to market its miraculin-based compound as a food supplement, a protein that has the property of preparing the mouth in a way that masks acidic flavors and transforms them into sweets when consumed beforehand. intake of food and beverages, and that it is aimed at patients with taste disorders, especially cancer and Covid.
Baïa foresees that its food supplement will reach Spanish pharmacies in chewable tablet format during the first quarter of 2022 and will have the exclusivity of marketing this product in the European Union for the next five years.
Therefore, as they explain to Five days the founders of the company, Loan Bensadon and Guillermo Milans del Bosch, the objective is to make the leap to France, Italy, Germany and England with their own commercialization through a model of medical visitation through strategic partners.
"We do not have the investment capacity to establish our own visitor network. For this reason, in each of these markets we will rely on a local partner that will help us in the commercialization, but the product will always go with our brand. We are already in advanced conversations with a Spanish company whose scope of action is in Spain, Portugal and Italy ", explain both co-founders.
And it is that the food supplement developed by Baïa has already received the interest of other countries, both in Europe and Latin America to start using it as part of the treatment in patients with taste disorders or with dietary restrictions, allowing them to maintain their treatments of medical nutrition. The company expects a turnover of around 600,000 euros by 2022.
"We have seen that with Covid there are people who lose their taste. Around 60% of cancer patients who are undergoing chemotherapy will develop a side effect that also affects taste. Also, 30% of people over the age of 65 have taste losses and all this translates into not reaching their nutritional goals. For all these people who have certain problems with eating, this supplement will help improve the experience of eating, "detail Loan Bensadon and Guillermo Milans del Bosch.
Clinical trial at Hospital La Paz
Starting in 2022, the company will start a clinical trial to generate scientific evidence on taste disorders in patients with breast cancer. This trial, which will begin in January, will be developed by a consortium formed by Baïa, the Hospital La Paz in Madrid, AZTI (technological center of the Basque Country) and the technological center of Catalonia Eurecat, with the collaboration of the CDTI, dependent on the Ministry of Science and Innovation.
The project has an approved budget of 450,000 euros and will last for two years in which more than a hundred patients with breast cancer and taste disorders derived from the treatment will be analyzed, with the aim of developing strategies nutritional supplements adapted to these patients and to the use of the Baïa supplement to increase the follow-up of dietary treatment, improve quality of life and reduce or reverse possible weight loss.
According to both founders, the objective is that once the clinical trial is concluded, it is to replicate it in other places. "We have been eight years and now we are going to generate all the evidence on the clinical application," they conclude.
Seeks to make the leap to the food industry
Natural sweetener. The authorization that Baïa has received from the European Commission is to market its compound based on miraculin as a food supplement and its application will be aimed at the health sector, but the company's plans are to make the leap to the food industry . To do this, it will initiate the procedures to obtain authorization as a food ingredient and be able to use it as a substitute for sugars and additives and become a natural sweetener that allows the production of other product lines.
Round of 3.5 million. The company is closing a financing round for 3.5 million with investors to obtain liquidity for its future growth plans.