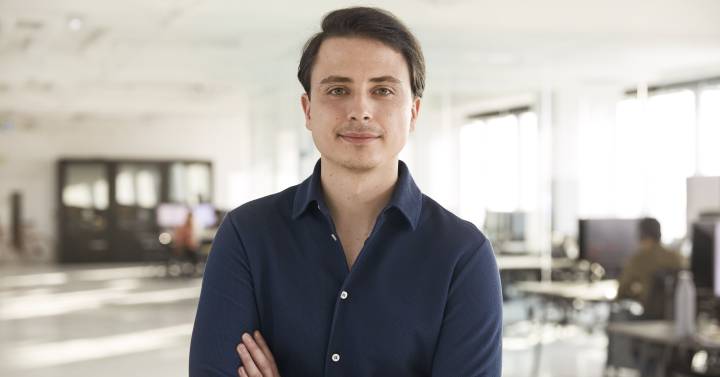 Trade Republic, the largest German neobroker in Europe, landed in Spain in October, with the hook of not charging commissions and giving away a share valued at up to 200 euros from one of the largest companies in the world. Its CEO and co-founder, Christian Hecker, created this platform with a banking license after realizing how big the pension gap was and is in Europe. In 2015 he founded, together with Thomas Pischke, Trade Republic, although they started offering their products in 2019.
How do you explain the success of Trade Republic in the countries where it operates, and especially in Spain?
In times of very low interest rates, high inflation and demographic change, everyone should have the opportunity to invest in the capital markets: this is the vision of Trade Republic. We are pioneers in mobile trading, enabling people to invest and save their money safely, quickly and easily. Thanks to the intuitive usability of our app and website, anyone can do it with just three taps or clicks. In this way, we democratize access to the capital market.
How many users do they have in general, and in particular in Spain?
We have more than one million clients and a portfolio of more than 6,000 million euros in all the countries where we operate. Unfortunately we still cannot give local data, but we can assure you that we have experienced impressive growth in all markets and especially in Spain.
TR is valued at €4.5 billion and we are backed by the world's most renowned venture capital investors
What are the platform's aspirations for 2022?
We want to further expand our offer, team and presence both in Europe and in Spain so that more users can invest in the capital markets. In the case of Spain, we work to give Spaniards a real solution to the problems they have faced for more than 20 years in relation to investing and saving their money. And at a regional level, we seek to be present in all the markets of the eurozone between now and the end of the year.
What is TR's assessment?
The last valuation was in our Series C round (May 2021) of $5 billion. We have raised $900 million as of May 2021. We are backed by the world's most renowned venture capitalists and together with them we intend to build the company privately. We have no intention of Stock Exchange.
Will you enter the world of cryptocurrencies? How and when?
What is making the Spaniard invest is the pressing problem of the pension deficit and high inflation
Cryptos are now available on Trade Republic in Germany and Italy. The other markets will follow in the course of this year, for Spain probably even this quarter. We are working on it. We are continually working on new features and products. Last week we published the new design of our application. We are constantly expanding the stocks and ETFs available and we are also working on adding, in addition to cryptos, derivatives to Spain soon.
Which country has surprised you the most in accepting TR?
So far every country has been a fantastic success for us. But it must be said that Spain has especially overwhelmed us with our success in the first month: we have far exceeded our initial objectives.
What do you think of small Spanish investors?
We believe that everyone should have the opportunity to invest in the capital markets with ease, regardless of their income. Most of our investors start with a small amount and increase it once they progress. Every euro counts when it comes to saving for retirement. In Spain we have almost 7% inflation, so leaving the money in the bank account is not an option for anyone. Our mission is to break down the barriers to entry and enable people to invest. This is a very important issue, after high inflation, negative interest rates and demographic change put great pressure, especially on young people, to save for themselves. Stocks and ETFs can be a critical foundation for this.
Has the pandemic helped Europeans to save, and now also to invest what they saved?
What is causing Europeans to invest is, above all, the pressing problem of the pension deficit and high inflation. However, the pandemic has caused many people to start thinking that investing in the capital markets may be a good option. Especially in the last 18 months, we have seen people becoming more educated about how to invest money. As a recent study by the German Institute for Economic Research Econ shows, Trade Republic clients are part of a new generation of investors: almost 70% of Trade Republic clients are under 35 years of age. Nearly half of our users are novice investors investing in the capital markets for the first time.
Why does a broker have a banking license?
We consider ourselves a savings platform aimed at everyone. That is why we want to offer the highest quality of negotiation and a safe product. We have gone to great lengths to be a licensed bank and offer customers the highest standard of securities. Trade Republic is a German securities trading bank supervised by the Bundesbank as well as the Federal Financial Supervisory Authority (BaFin). In addition, with a banking license, we are more flexible in terms of the products that we can offer to the client.
When will Trade Republic make a profit? Can you be profitable by giving away shares and 50 euros for each client you take?
We focus on the long-term saver and not the short-term trader, so it makes perfect sense to allow novice investors to invest in the capital markets. Trade Republic's mission is to democratize savings and investment. Participating in the capital markets has been a privilege of the elite for far too long. So that new users can try the experience of investing from the beginning and generate returns with the long term in mind, we offer them to start their initiation process with the additional benefit of free shares of some of the largest companies in the world. Our priority is to continue growing. Every operation on the platform is profitable, but we want further growth to reach all European citizens.