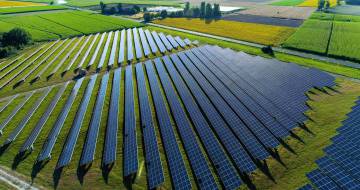 The North American company Array Technologies, one of the world's largest providers of solar tracker technology and controlled by Blackstone, announced today that it has signed a definitive agreement to acquire Soluciones Técnicas Integrales Norland, (STI Norland), one of the leading European manufacturers of trackers. solar.
According to the statement released by Array, STI Norland, based in Pamplona, ​​has leading positions in Iberia and Latin America, including the Brazilian solar market. STI Norland has completed or been awarded tracking systems for more than 400 projects globally, representing more than 12 GW of generating capacity.
In recent years, the company has achieved high percentage revenue growth and double-digit EBITDA by leveraging the strength of its products and sales teams that are well suited to the needs of certain international clients. STI Norland generated revenue and EBITDA of approximately € 200 million and € 43 million, respectively, in 2020.
Under the terms of the agreement, Array will acquire STI Norland for approximately € 570 million in cash and shares. The transaction is expected to close in the first quarter of 2022. Javier Reclusa, CEO of STI Norland, as well as the rest of the company's senior management team, will remain at Array after the transaction closes and will continue to lead STI.
Under the terms of the agreement, Array will acquire STI Norland for € 351 million in cash (approximately $ 407 million at current exchange rates) and 13.9 million Array common shares.
STI Norland shareholders may receive an additional payment of up to € 55 million in cash based on the amount of EBITDA in excess of € 47 million that STI Norland generates in 2021, provided it exceeds € 47 million. If that level is reached, the additional payment will be made in 2022 after the completion of an audit of STI Norland's results.
The acquisition is subject to receipt of the necessary regulatory approvals and is expected to close in the first quarter of 2022.
Array claims to have obtained commitments from JP Morgan Securities, LLC and Guggenheim Securities, LLC as joint lead coordinators, for bridge financing, if necessary, to complete the transaction. However, the company expects to seek other debt financing alternatives to meet the cash portion of the purchase price, as well as to issue additional preferred shares in accordance with the preferred share pledge it signed with Blackstone in August 2021.