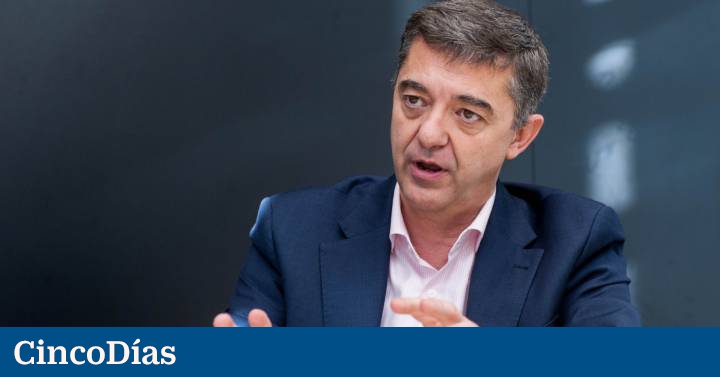 Prosegur AVOS is the only company in the Prosegur Group that is not related to the security business. In 2020, this line of business, specialized in process outsourcing (BPO) and digital transformation, has already billed almost 55 million and its plan is to reach 125 million by 2023. "We want companies, especially all the banking and insurance companies, but not only, perceive us as a technological partner, which also makes outsourcing", says Ángel de León, its general manager, who hopes to replicate the success achieved in Spain in Latin America and the US.
How did Prosegur AVOS come about? And what is the business of the company?
It started in 2015 as a division of Prosegur Cash, which sought to diversify and saw a business opportunity in the outsourcing of services in the financial sector, since the company had a long-standing relationship of trust with all banks. We started out as what Americans call a BPO, a provider of outsourcing of business processes). But, since last year, and after Prosegur acquired most of the Prosegur AVOS business for 67 million, we have been an independent business unit within the group, joining Prosegur Security, Prosegur Alarms, Cipher (cybersecurity unit) and Prosegur Cash. Now we have set up a solid portfolio of services and we are a company specialized in process outsourcing and digital transformation.
And how has this evolution of the business occurred?
In 2016, Prosegur AVOS had a turnover of seven million doing just back office banking. That figure rose to 55 million in 2020. We have achieved this strong growth by expanding our service portfolio, with internal developments and with acquisitions. In 2017, we bought Contesta, which is a contact center -with some 1,200 positions at present- specializing in banking and insurance, to also have front office (Customer Support). In 2018, we bought Risk MS, a company that provided us with two software, one for the prevention of money laundering and financing of terrorism, called AML Check, and another for bank reconciliation (ERF Check). In 2020, we added the company SIS Net, which is basically a core insurer, or what is the same, the heart that governs the activities of an insurance company. This purchase allowed us to enter strongly into the insurance sector, where we already have more than 30 clients in Spain.
What is the next bet?
Our objective is that companies see us as a technological partner, which also makes outsourcing. And not only for banking and insurance, although that is where we are strong, but also in other sectors. That is why we now want to accelerate robotic process automation (RPA), a technology that is increasingly in demand with digital transformation and the search for efficiencies. And for this, we have just incorporated Prosegur's Robotization, Excellence, Automation and Digitization Center (Cread) into Prosegur AVOS, which has a team of more than 120 specialists in RPA and comprehensive digital content management. This will allow us to offer Prosegur's hyper-automation model to our entire customer base. Since its launch, this center has automated more than 450 processes in Prosegur (in human resources, in accounting, in the business area…) and has ensured recurring savings of more than 600,000 hours/persons in the company.
Give me an example of how the Prosegur Group uses RPA.
Prosegur makes thousands of contracts a year in Spain alone, because some areas have a high turnover. Think that there are contracts for sporadic surveillance services such as football matches, concerts or events that are for a few hours or a few days. And each one of them is a registration and a discharge in Social Security. Before, it was people who received the resumes and validated the documents, the DNI, the criminal record if the position required it. They were processes of a lot of paperwork, which were done manually. Now all this is done by robots, and it is the machines that upload it to Social Security or notify the Ministry of the Interior when we talk about guard posts. The entire process is automated, gaining in efficiency and eliminating manual error.
I think Cread's main initiative is a super robot?
Yes, because what it does is control all the robots that you put into the different processes of a company. Thanks to this solution, only three people maintain the more than 400 robots that Prosegur has installed in Europe and America, otherwise it would be impossible, and manage more than 4 Terabytes of information weekly, working practically 24 hours a day. Prosegur is our main client, but we are already offering Cread's document automation and digitization services to financial institutions and it is being very well received, for example for probate processes, where we have managed to save almost 12% of the time thanks to a correct combination of back office and robotics, or in mortgage management or claims for means of payment.
Will they make more purchases to continue strengthening their offer?
Yes, because our vocation is to be a leading technology provider for banking and insurance in Spain, Latin America and the US, which is a key market for Prosegur. We are not yet in this last country, but we will enter in an inorganic way, since it is very difficult to enter there as a supplier of outsourcing from a bank when they don't know you. The idea is to incorporate four companies until 2023, and this year, almost certainly, we will acquire at least one or two to continue complementing our capabilities. It is quite possible that some of the purchases are linked to artificial intelligence and machine learning, because RPA combined with these technologies are giving rise to new forms of business process management. Our forecast is to bill 125 million in 2023, according to our 2021-2023 strategic plan, and double again or at least maintain double-digit growth during the next strategic plan (2024-2026).
The forecast for 2023 has advanced me, but how did they close 2021?
I cannot give that information because the group has not yet published its annual results, but we have exceeded the sales figure that we had in the strategic plan and we have grown in double digits organically, and this despite the fact that we are still with the Covid- 19 and there is still some recession in certain sectors.
What weight do the banking and insurance sectors have for the company?
They represent 90% of our business. We currently have more than 70 clients in Spain, most of them financial and insurance entities, but we are also present in the insurance sector. servers real estate [plataformas de gestión de activos inmobiliarios como Altamira o Servihabitat] and we have started to work with some great energetics. But certainly what we want is to consolidate our position in banking and insurance, where we still have a lot of room to grow. We must gain transversality and manage to sell them the suite room complete, so that whoever hires us the services of back office do it with him too front office and the core. We have a lot of cross-selling.
What differentiates Prosegur AVOS from other process outsourcing and digital transformation providers?
The knowledge of the client. That gives us a position of enormous strength. Many large technology companies do projects for their clients, but they have not been in the client's shoes. We are experts in banking operations (thanks to the Prosegur group's years of work with banks) and, furthermore, we are a technology company. That is our differential value. That is why if you ask me where I see the company in 2024, I would say that following its line of focus in banking and insurance, and some nearby sectors, but much more geographically diversified. We want to replicate what has been achieved in Spain in Latin America (taking advantage of the great presence that Prosegur has there) and the US, but not lose the sector focus, because in our industry there are many companies that cover all sectors and the one that covers a lot does not squeeze. All in all, we will leverage a lot on Prosegur's customer footprint around the world, which is much broader than that of Prosegur Cash.
What staff does the company have and how does it reach the market?
In Spain, we currently have 11 work centers and we are around 2,200 people, of which almost 400 are in technology (at AVOS Tech). This part of the business invoiced 11 million in 2020 and will double that figure in 2023; the goal is for it to gain more weight and become a technological benchmark. We are now the fourth Prosegur unit by revenue, but we want to catch up with some of the other units [la más próxima es Prosegur Alarms, que ronda los 200 millones de facturación]. As far as how we get to market, we just changed the strategy. Until now, each vertical (back office, front office and technology) had its sales department and operated independently, but now we have created a transversal sales department to simultaneously offer all solutions.
How is your company dealing with the problem of finding talent?
We are suffering from the problem like everyone. This is the greatest challenge that technology companies face, because there is a greater demand for technological services than the supply of talent in the market. But we try to face it by starting programs from scratch, capturing talent at its source (in business schools, technology schools, vocational training centers…), finishing training them and incorporating them into our team. And, later, putting means to retain that talent. We also have a certification school at SIS Net where third-party professionals, from integrators, for example, can be certified in its technology, which helps us to have more people trained in our technology and, therefore, to grow.