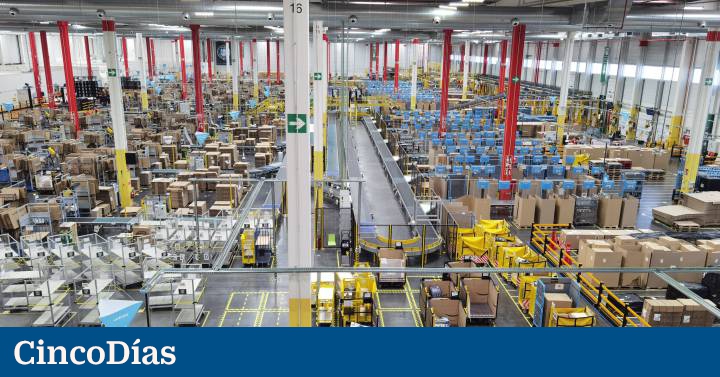 Amazon entered almost 4,000 million euros in 2021 for its e-commerce retail business and its activity as a service provider cloud through its Amazon Web Services branch. The figure represents a growth of 4% compared to 2020, when both businesses reported revenues of 3,840 million.
the giant of e-commerce It does not reveal how much it earns from its store and from AWS in Spain, since both subsidiaries invoice and pay taxes in Spain, but consolidate in Luxembourg. However, the figure can be deducted by deducting of the gross income of 6,000 million in Spain -announced days ago by the company- the rest of the income that it records in the country and that it has communicated through its companies in Spain to the Mercantile Registry.
The only relevant accounts that it has not yet presented of the six companies with which it operates in Spain is that of Amazon Online Services, where it includes its online advertising activity, and which in 2020 reported revenues of 260 million. Asked by CincoDías, the company has not wanted to reveal the turnover of this company in 2021 until they are in the registry, but it does affirm that it has had a similar growth to the global one (32%). Industry sources point out that they would have contributed more than 350 million revenues.
Apart from the branches of Amazon EU Sarl (in charge of retail sales through Amazon.es) and Amazon Web Services, and its advertising unit, Amazon achieved revenues of 1,710 million in Spain in 2021, a 30, 6% more, adding its logistics subsidiaries (Amazon Spain Fulfillment and Amazon Road Transport Spain) and those in charge of corporate services (Amazon Spain Services) and data centers (Amazon Data Services). In this aggregate, the firm generated losses of 1.2 million compared to 13.3 million profits the previous year.
warehouses
The bulk of this turnover was due to its logistics activity. Amazon Spain Fulfillment, focused on the logistics of the first mile and, therefore, of its department stores, entered 769.7 million, 32.6% more, while the company in charge of the middle and last mile (transport and distribution stations ), billed 692 million, 22% more. Between the two, 1,462 million, 27.6% more. The first reduced its benefit from 13 to 8.9 million and the second, from 4.5 to 3.6 million.
In the case of Amazon Spain Fulfillment, most of the income (486.8 million) came from services outside of Spain and the rest to the internal market. In the other subsidiary, income from services in Spain was higher (371.2 million compared to 320.8).
Amazon reports in its accounts that it injected more than 250 million euros into Amazon Data Services Spain last year through two operations. The company contributed 90 million to meet the entity's treasury needs (in 2020 it had already contributed another 55 million). It also signed a seven-year loan line of 280 million with the parent company at the end of November. At the end of 2021, the Spanish company had already disposed of 160 million from the line.
The company report details that the capital contributions made correspond mainly to investment in servers and the development of various data centers in Aragon, where it is building its region cloud in Spain, which will be operational at the end of this year. Amazon already reported in 2019 that it will open three data centers in three Aragonese towns with an investment of 2,500 million over ten years.
Amazon Data Services Spain invoiced more than 25 million last year, 278% more. His benefit went from 300,000 to 415,000 euros.
As for Amazon Spain Services, it increased its losses to 14.2 million, compared to the red numbers of 4.49 million in 2020, but increased its income by 43.2%, to 223.3 million.
Amazon reported this month that it had increased its investments in Spain by 48%, up to 3,700 million, and that it had contributed more than 292 million to the state coffers, 11.8% more.
Boost employment and personnel expenses
Template. The two logistics subsidiaries of Amazon increased their personnel expenses. Amazon Spain Fulfillment from almost 222 million in 2020 to more than 328 last year. And it is that the company closed 2021 with a total of 9,003 employees (8,765 permanent), compared to 5,751 a year earlier. Also in Amazon Road Transport Spain, the number of employees grew from 1,853 to 3,209, and personnel expenses went from 93 to 132 million.
Impact. Amazon Data Service Spain also increased its spending on personnel by 570%, to exceed four million euros by tripling its workforce to 66 employees. The company expects 1,300 jobs to be created between construction and operation in the region cloud and generate an impact on the Spanish GDP of 1,800 million in the next decade.