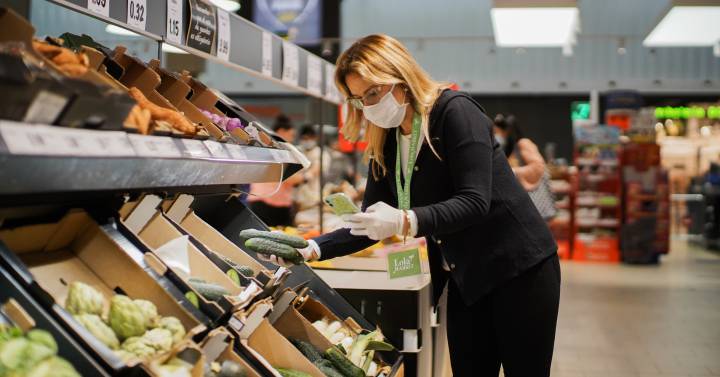 Aliexpress takes another step in its growth in Spain. The e-commerce company, owned by the Chinese giant Alibaba, enters the online sale of food after sealing an alliance with Lola Market, the platform that brings together the main food distribution chains, including Mercadona, Lidl, Carrefour the Day.
As announced today, Aliexpress from this Wednesday a supermarket shopping service that will allow its users to buy food products in nearby stores and receive them within one hour of placing the order, on the same day or with a scheduled delivery. To do this, it will integrate the Lola Market service into its app, offering this possibility to customers from 11 cities: A Coruña, Alicante, Bilbao, Barcelona, ​​Madrid, Malaga, Murcia, Pamplona, ​​Seville, Valencia and Zaragoza. To them three more will be added: Palma de Mallorca, Tenerife and Las Palmas. The fact of being able to deliver the purchase in less than an hour makes Aliexpress enter the business of Q-commerce, a niche in which the platforms of delivery They are focusing their efforts in order to deliver online purchases in an ever faster way.
Spain becomes the first market in the world where Aliexpress incorporates a supermarket service. The first 1,111 orders will have free shipping and management costs with no minimum amount, and will have a surcharge of € 1.99 on purchases of less than € 40 in any of the supermarkets present in Lola Market, as long as it is accessed through the app Aliexpress.
"Spain is a key market for Aliexpress that stands out from the rest, as we have been able to constantly introduce unique innovations to improve our customers' global shopping experience," the company's general manager in Spain, France, explained in a statement. and Italy, William Wang. "The integration of Lola Market with Aliexpress makes Spain the first country to offer this service", he valued Luis Pérez del Val, founder of Lola Market. "We are very happy with this development and we hope to be able to offer this convenient service to more people and continue to change the way people do their shopping, "he added.
Remember that Lola Market was acquired last September by Glovo to reinforce its commitment to Q-commerce, in which it expects to reach a transaction volume of 300 million euros by the end of this year and exceed 1,000 million in 2022.