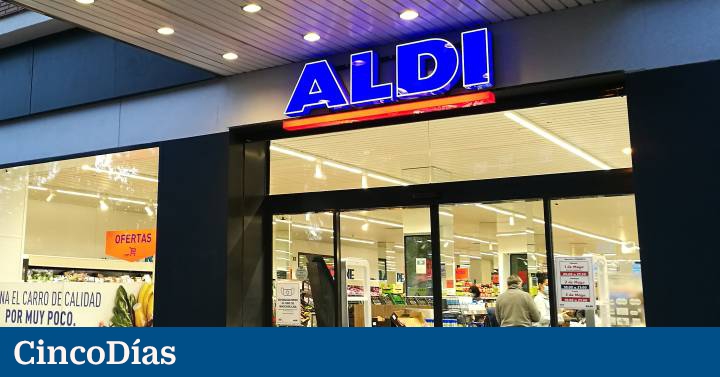 Aldi will significantly increase its workforce in Spain this year, in the heat of its opening plan in the country. The German supermarket chain will undertake the hiring of 600 people only during the first half of this year, with which it will far exceed 6,000 employees in this market.
A job creation that, according to the company, "shows the strong growth that Aldi is experiencing in the country." Most of the 600 contracts planned for the first semester are accumulated by Andalusia. There, Aldi plans to create 200 new jobs, while it is one of the communities where more stores will open this year.
Another 130 contracts will go to Catalonia and the Balearic Islands, and of these, 40 will be in the central offices. Madrid, the rest of the central zone and the north of the country will add 120 new jobs. At this point, we must take into account the expansion of Aldi in Galicia, where it opened its first supermarket last November, and also in Asturias, a region where it will arrive for the first time this year.
Added to this is the growth projected for the Community of Madrid. Aldi's plan goes through a total of five openings, of which he has already executed two.
The first in the La Viña shopping center in San Sebastián de los Reyes, and the second in Madrid's Calle Alcalá, at number 380. According to the company's calculations, its growth in the center and north of Spain has led to the hiring of more than 650 workers in the last three years, which is equivalent to an increase of 67% in this period.
In the national group, the growth of the workforce in that period has been 54%, with more than 2,000 incorporations. But one of the most important milestones for Aldi in 2022, within its growth strategy, will be its arrival in the Canary Islands, where its first openings are scheduled. This release will go hand in hand with more than a hundred contracts in the coming months.
And in parallel, it will continue to grow in the Valencian Community with 75 new jobs.
Aldi's plan for this year goes through the opening of 50 supermarkets, especially in Andalusia, Catalonia, the Valencian Community and the Community of Madrid, among which they will bring together half of the inaugurations.
A figure that means raising the rate of annual openings by 10. In 2021, Aldi opened 40 new stores to reach 357 supermarkets, including more than 390,000 square meters of surface.