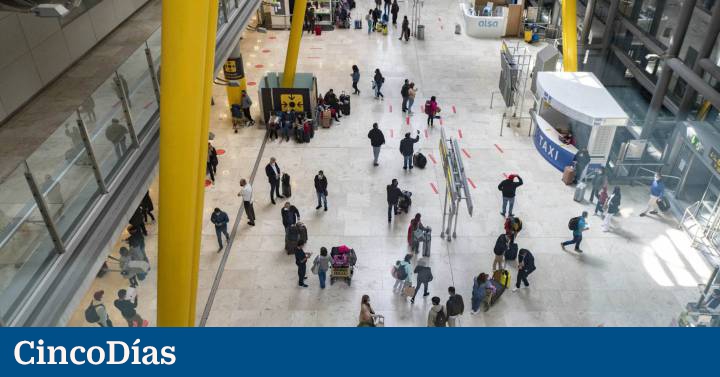 The 104.9 million travelers who have passed through the terminals of Spanish airports in the first half of the year represent a recovery rate of 82% compared to the traffic declared in the first half of 2019. Aena It has managed 1.02 million takeoffs and landings in the first six months, a figure that is nine percentage points from that registered before the pandemic. As for the transport of goods, the 493,575 tons accounted for are 1.2% below the figure for January to June 2019.
The entry into the hottest months of the high season has not disappointed despite the airport chaos in half of Europe or the problems in passport control that for weeks caused long waits in the most touristic places in Spain. Aena obtained in June a 89.2% recovery rate compared to the same month of 2019, reaching 24.3 million travelers. The movement of aircraft was 211,768, with the return of 93.8% of aircraft traffic, and cargo reached 80,068 tons, 3.5% above the comparable month of 2019.
Of the 24.2 million travelers in June, 16.5 million traveled on international flights (14.4% less than in June 2019) and 7.7 million did so on domestic flights (2.2% less ). This last segment was the first to return in all of Europe while restrictions on mobility between borders were lifted.
by airports, Madrid-Barajas managed 4.5 million travelers in June, which represents a decrease of 18.5% compared to June 2019. Barcelona-El Prat moved 4 million, 20.4% below the same month before the pandemic. In Palma de Mallorca 3.7 million (-3.6%) were received; Malaga declares 1.9 million travelers (-7.2%); Alicante had 1.3 million (-12.6%); Ibiza1.1 million (-2.3%); Gran Canaria closed June with 926,433 users (-5.4%), and Tenerife South It almost touched the figure for June 2019 with 804,767 (-1.9%).
It highlights the behavior of Valenciawhose 800,102 travelers are 2.6% above the figure for June 2019. Lanzarotewith 606,596, also improves its pre-pandemic traffic by 0.4%, and Minorca it does so by 6.5%, serving 558,714 travelers in June.
Review of traffic expectations
On June 10, with the capacity reserves for the summer and the data for May already in hand, Aena revised its traffic estimates for the year as a whole upwards. Where I had a forecast of 68% and recovery rate, now it moves in a range of 75% to 85% for the 12 months.
This improvement translates into a rise from 18.6 to 45 million travelers from an initial estimate of 187 million users of the airport network. With this, Aena's traffic would move between 205 and 232 million passengers in 2022. Figures that practically double the 120 million of 2021 and are close to the historical record of 274 million of 2019.