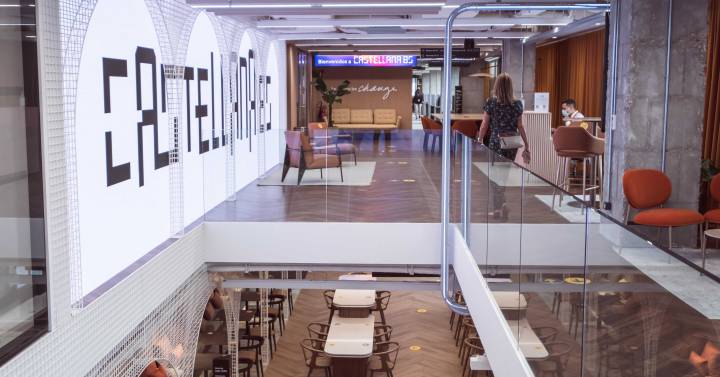 Accenture announced this Monday the opening of a new building at Paseo de la Castellana 85, in Madrid, at the disposal of its professionals and clients. The building, owned by Merlin, has been renovated in recent years and was previously Sacyr's headquarters. Accenture's new headquarters "fuses technology and human ingenuity and anticipates the future of work, also reflecting Accenture's brand values ​​and constant care for people," the firm said.
The offices have more than 9,000 square meters distributed over 5 floors and a 1,200-square-meter terrace. In addition, they host more than 500 workstations, 40 meeting rooms and 47 focus rooms. The new C85 building has 'La carrilla', an architectural element that connects the different spaces, environments and equipment, made up of activity sensors that measure the occupancy and use rates, generating information that allows establishing predictive models – regulation of the air conditioning, cleaning or capacity control – and more efficient data monitoring related to sustainability.
Precisely, the company has committed to achieving zero net emissions, zero waste generation, promoting the circular economy and promoting efficient waste consumption by 2025. Castellana 85, where all the energy consumed comes from renewable sources, says with LEED certification, connection for charging electric cars and lockers for scooters and bicycles.
The counters have various heights and the tables are adjustable, the signage and the alarm system are adapted to the needs of people with visual or hearing disabilities and it has inclusive bathrooms.
Personal experience
According to Domingo Mirón, president of Accenture in Spain, Portugal and Israel: "our new offices at Castellana 85 are conceived from the perspective of improving the experience of our people. We have reimagined the spaces and their operations so that, through the latest technologies, our professionals and visitors can enjoy the best, differential and personalized experience, while blurring the boundaries between the physical and the virtual to make the future of workplace work possible today. morning".
Accenture continues to maintain two other buildings in Madrid in the La Finca de Pozuelo business park, in addition to having offices in the main Spanish cities (Barcelona, ​​Bilbao, Malaga, Seville, Alicante, La Coruña, Zaragoza, León and Gijón) and different development and innovation centers across the country.