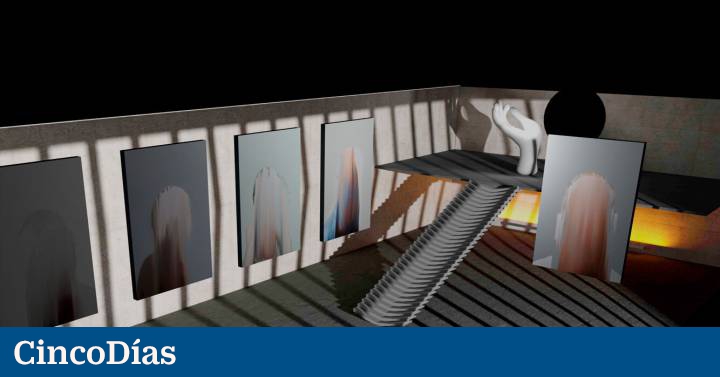 How to buy a digital work and be sure of its artistic category? Where to rent a space to exhibit a virtual piece? How can a traditional gallery or artist use digital tools? "It is necessary to put the new technologies applied to art at the service of creators, galleries, experts… so that not only the financial world benefits," explains Alejandro García, co-founder of the digital art gallery art.army. With the idea of ​​connecting the world of art with new technologies, the approach of this virtual space is to accommodate interested artists and collectors, but also curators, galleries, institutions… "A new model for art is possible" , they proclaim.
Art. Army's proposal goes through looking back at the fundamentals of traditional art and create a "fair" model for creators. What sets Art.army apart from other projects is that it is backed by not only techies, but artists as well. It offers works by national and international creators, selected and endorsed by gallery owners, critics, analysts and curators.
To carry out the transactions they have created their own digital currency, arttoken
Art.army has become a pioneer in the art market with the sale of NFTs, or non-fungible tokens, a type of encrypted files (using blockchain technology) that represent something unique. In the previous edition of the contemporary art fair Arco, Art.army was the first platform in the history of the event to sell NFT, says Alejandro García. It was about works by the artist Soliman López. This year, coinciding with Arco, Art.army has an exhibition from a Barcelona gallery, House of Chappaz.
Adaptation
The idea is that art must adapt to new circumstances, but at the same time continue to apply the values ​​that have sustained its development in material works. The concept is that what Art.army offers is validated and contrasted by experts. It is about, explains García, to move away from the "speculative" notion that until now has moved in the world of digital art, with the sale of virtual works not always of a proven artistic category. On the contrary, digital pieces "that guarantee their validity" are exposed on the platform.
A new Art.army project consists of offering cultural institutions the possibility of tokenizing works to offer them to the public and obtain additional financing, by way of patronage. An initiative that international institutions have already carried out, for example the Belvedere gallery in Vienna with Gustav Klimt's kiss, which turned into 10,000 NFT and sold for 1,850 euros each. A way of becoming the "owner" of part of a work… virtual, which has not yet been developed in Spain.
Art.army also offers on its platform spaces made by 3D artists in the virtual world for artists to exhibit their works. Of the 10 that it has put up for sale, the platform has already sold three and occupies as many others with its own exhibitions. In these digital galleries, collectors can display their collection of Ethereum and Polygon NFTs. In addition, virtual spaces can be auctioned or sold in the metaverse, as if they were works of art.
To carry out the transactions, Art.army has created its own cryptocurrency, arttoken, which is listed on the main exchange platforms of the network. Acquiring it gives the partner a stake on the platform. In any case, to buy a piece of digital art it is not necessary to acquire tokens: the gallery allows you to use a credit card and obtain cryptocurrencies directly.
A virtual model that puts the artist at the center
creators. Another difference between this gallery and other digital art markets is that it is the artists themselves who can manage the profit they make from their works, as well as the part they want to assign to curators or the gallery. "Artists will be able to tokenize all kinds of digital elements: video, audio, images, 3D pieces or programming," they explain from the gallery.
Gallery. If a work is sold, the creator will receive 90% of the profit, and can assign a percentage to his gallery owner or agency. Another 5% goes to Art.army for platform maintenance and the remaining 5% is distributed among "all token holders". Thus, through the acquisition of arttokens, the partners "can contribute to the project and receive a benefit".
Auction. Normally, the price of the pieces can be closed, in the case of unique works or spaces in the metaverse or serial works. There are also auctions and the possibility of bidding in a limited time. Although purchased works cannot be returned, Art.army offers a secondary market that allows collectors to resell or auction works.