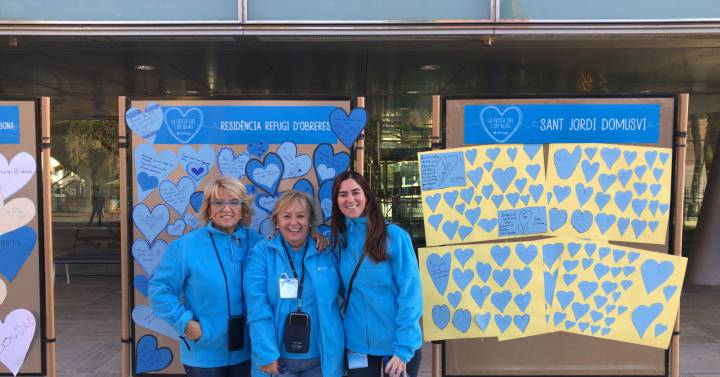 The CaixaBank Volunteers Association, the largest corporate volunteer organization in the country, celebrated Volunteer Day 2021 this Saturday, a day of solidarity for nearly 4,000 people in vulnerable situations. Under the slogan "The blue heart party", more than 1,500 CaixaBank volunteers made the event possible, held jointly in 50 cities throughout Spain.
The day brought together volunteers, family members and beneficiaries of social entities, from more than 130 organizations in Spain specialized in working with minors, people with disabilities, young unaccompanied foreigners, elderly people and other groups in vulnerable situations. With the collaboration of all the participants, different activities were developed around social inclusion, creativity, sports and caring for the environment to give visibility to their needs and the work of the entire associative fabric.
In addition, this Volunteer Day 2021 focused especially on the most vulnerable children, since one in three Spanish minors (approximately 2.2 million) are at risk of poverty or social exclusion, according to the AROPE rate, the European indicator that measures the risk of poverty and social exclusion.
In Catalonia, in addition to the great central event in Barcelona, ​​a dozen initiatives have been prepared, which have taken place in Girona, Olesa de Montserrat, Tarragona and El Garxal (Delta de l'Ebre), in which more than 200 have participated vulnerable people with the help of a hundred volunteers.
In Madrid, the celebration took place in the Planetarium, with the participation of 326 boys and girls from 10 entities, and with the support of 125 volunteers. In addition, the objective has also been to share actions with children at risk of exclusion. For its part, in Andalusia, a score of activities have been organized in Cádiz, Huelva, Seville, Córdoba, Granada, Jaén and Málaga for more than 1,000 people in vulnerable situations, thanks to the support of 171 volunteers.
In Extremadura, several actions have been developed that have had 125 participants and about twenty volunteers, including artistic and decoration activities with people at risk of exclusion. In the Balearic Islands, a large social gymkhana has been organized with around 200 beneficiaries and with the aim of integrating all the participants in the celebration.
With regard to Castilla-La Mancha, some 300 people, including volunteers and the elderly, have participated in an Olympics in the Ciudad Deportiva de Tomelloso (Ciudad Real), adapted to the age and characteristics of each participant.
The CaixaBank volunteer social action celebrated its fifteenth anniversary of solidarity work in 2020. In total, in the last year, around 4,600 people have been part of the entity's active volunteering, participating in more than 4,250 solidarity activities.