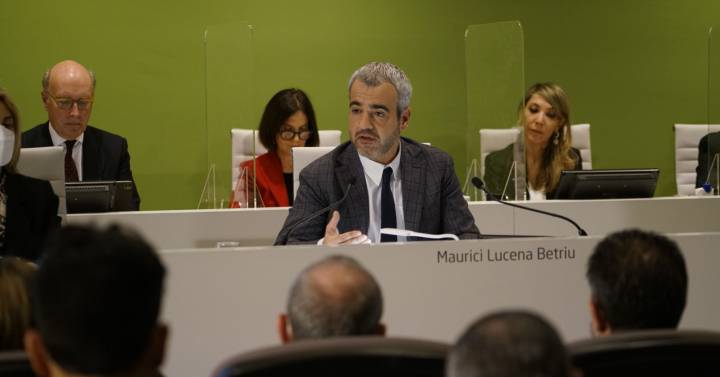 The market has launched a resounding warning to Aena for the concentration of all the power of the company in the hands of the president, Maurici Lucena. 15% of the capital —17.44% of those who attended the shareholders' meeting— voted against the re-election of the executive at the head of the public company for four more years. The summit, held this Thursday, had a quorum of 87.63%.
Aena is 51% controlled by the State, through Enaire. In the rest of the capital, the shares of the TCI activist fund stand out, with 6.5%. And also the BlackRock and Veritas funds, with 3% each. The results of the meeting mean that more than a third of the company's floating capital has rejected the re-election of the president, which was assured by the affirmative vote of the first shareholder.
The investors who have opposed have followed the recommendations of the largest proxy advisor in the world, ISS, who precisely justifies his opposition in the non-separation of functions at the head of the company. The same reason is used by Calvert, the responsible investment fund in the hands of Morgan Stanley, to vote against. It also argues that the majority of the board is not independent, which is why it has also voted against the appointment of three new proprietary directors, Raúl Míguez, Eva Ballesté and Manuel Delacampagne. These appointments have had the rejection of 5.81%, for each of the first two, and 6.6% for the third director.
The California civil servants' pension fund and that of the teachers of this State have already revealed that they have voted against the ratification of Lucena, but yes to the other two appointments. The Florida public pension fund, on the other hand, has stated that it has voted in favor of all the points.